Your Guide To The 10 Best Herpes Dating Apps
Positive Singles – Best for people who are living with a sexually transmitted infection and looking for an understanding and supportive partner.
MPWH – Best for people looking to find a match who share the same condition of living with herpes.
H-Date – Best for people looking to find a meaningful connection with someone who shares their herpes diagnosis.
Hift – Best for people looking to make meaningful connections and find a lasting relationship.
Meet Positives – Best for people living with STDs who are looking for a supportive and understanding community to find love.
There are plenty of other herpes dating apps available to explore. There is no shortage of options for those looking for a partner with an STI. Alternatives that you might want to check out:
Hmates
HSVBuddies
Hope
HWerks
Herpes Passions
How To Choose The Best Option For You?
Ah, the age-old question: which herpes dating app is best? I feel ya. It can be tough to choose from all of them out there! But don't worry – I'm here to help you figure it out. First things first: make sure that whatever site or app you're using has good reviews and a solid user base. If people are talking about how great an experience they had with it, then chances are high that you'll have one too! And if there's no one on the platform, well…you won't get very far in your search for love (or even just friendship). So do some research before diving in headfirst into any old thing. Next up is safety and security measures; after all, this isn't something we want just anyone getting their hands on – so check what kind of protection each service offers its users when it comes to data privacy and personal information sharing policies etcetera… You should also look at whether or not members need verification before being able to join conversations with other singles – because let's face it; nobody wants creepy strangers sliding into their DMs uninvited!
Finally (and perhaps most importantly), consider your budget when choosing between different herpes dating apps/sites as many offer subscription plans at various price points depending upon features offered by them like video chat options etc.. That way you can find something within your means without sacrificing quality for cost savings alone – plus having access to more bells & whistles could mean better luck finding someone special who really clicks with YOU specifically 😉 All told though remember this golden rule above everything else: trust yourself & go with whichever option feels right FOR YOU regardless of anything else going around online these days… Good luck out there my friend!!
Why Are Herpes Dating Apps So Popular Now?
Herpes dating apps are all the rage these days! It's no wonder why – they provide a safe and judgment-free space for people with herpes to meet, mingle, and find that special someone. With such an app you don't have to worry about being "ghosted" or having your heart broken because of your diagnosis. Plus it makes meeting new people so much easier since everyone on there is in the same boat as you. Talk about a win-win situation! So if you want to take control of your love life without fear or shame then give one of these apps a try – who knows what could happen?
List Of Best Herpes Dating Apps
Positive Singles
Positive Singles is the go-to dating site for those living with STDs. It offers a safe, non-judgmental space to meet other singles who understand what you're going through. Plus, its key features make it easy to connect with potential matches. With anonymous messaging, privacy settings, and advanced search options, Positive Singles gives you control over your online dating experience. And its blog section provides helpful advice on how to navigate the world of online dating. All in all, Positive Singles is a great option for anyone looking for love while living with an STD.
MPWH
MPWH is the ultimate dating site for singles living with herpes. It's packed with features to help you meet someone special, like an extensive profile builder, private chat rooms, and a "Let's Meet" feature that lets you browse potential matches. Plus, it's totally free! With MPWH, you can connect with people who understand your situation and find love without any judgment. So, if you're looking for a safe and supportive environment to find romance, look no further than MPWH!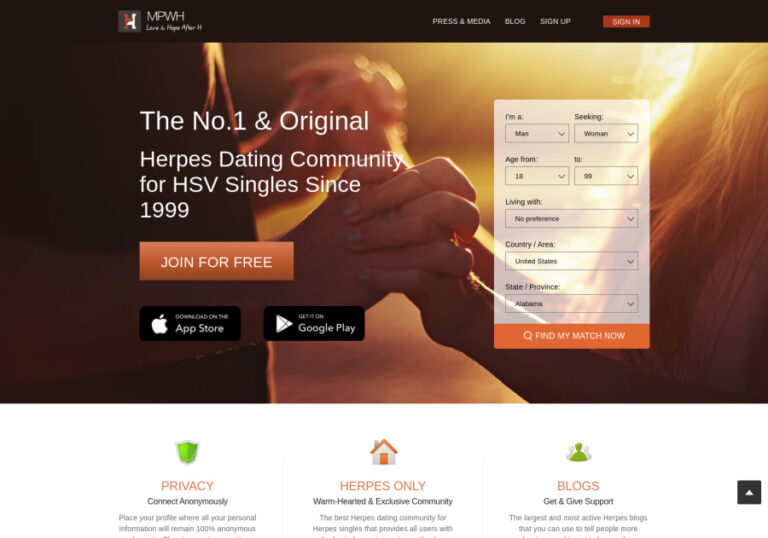 H-Date
H-Date is a great dating site for those looking for love. It offers key features like private messaging, video chat, and instant messaging, so you can get to know potential partners quickly and easily. Plus, its advanced search feature makes it easy to find someone who meets your criteria. And the best part? It's free! So if you're ready to take your love life to the next level, give H-Date a try – you won't be disappointed!
Hift
Hift is the perfect dating site for those who want to find a connection that's more than skin deep. It has a unique feature of allowing users to search for potential matches based on their health conditions and treatments, so you can be sure you're finding someone who understands your struggles. Plus, Hift offers a secure and private environment, with 24/7 moderation and customer support. With its powerful matching algorithms and advanced features, Hift is the ultimate way to find true love. So don't wait – get Hifting today!
Meet Positives
Meet Positives is the ultimate dating site! It's packed with key features and advantages, like a secure platform, easy-to-use search filters, and verified profiles. Plus, it's free to join and use! You can find singles who share your interests and values, and start conversations in no time. With Meet Positives, you'll never have to worry about feeling alone again – it's like having your own personal dating guru! So don't wait – get out there and start meeting new people today!
What Are Herpes Dating Apps?
Ah, herpes dating apps. Where do I start? They're like any other online dating app but with a twist – they're specifically for people living with herpes. No more worrying about if you should tell your date or not; everyone on the app knows what they have and are looking to find someone who understands them and their condition. It takes all the awkwardness out of it! Plus, these apps provide an opportunity to connect with others in similar situations so that users can share advice, experiences and support each other through tough times – which is invaluable when dealing with something as personal as this. Whether you're looking for friendship or romance (or both!), there's no better place than one of these specialized sites where everybody 'gets it'. So don't be shy – give 'em a try!
Who Uses Herpes Dating Apps?
Yup, you heard that right – herpes dating apps. It's a thing! Who uses them? Well, it might surprise you to know that they're actually pretty popular among people who have been diagnosed with the virus. People of all ages and backgrounds use these apps to find companionship and love in spite of their diagnosis. Plus, since everyone on the app has HSV-1 or HSV-2 already, there's no need for awkward conversations about STDs – everybody knows what they're getting into from the get go! So if your heart is set on finding someone special despite having herpes – don't worry; help is at hand!
How Do We Rank Herpes Dating Apps?
When it comes to reviewing herpes dating apps, we don't mess around. We take our job seriously and make sure that each app is thoroughly tested before recommending them to users. Our team of online dating experts spent days testing both free and paid versions of these apps by sending messages (over 500 in total!) to other users on the platform. We also took time reading user reviews from all over the web as well as checking out customer service responses for any issues or complaints people had with a particular app.
We didn't just stop there though; we went even further! To get an inside look at how everything works, we signed up for accounts on every single one of these sites so that we could see what kind of features they offer their members firsthand – from profile creation tools to messaging systems and more – no stone was left unturned during this review process! Plus, since privacy is such an important factor when it comes to choosing a herpes dating site, our team made sure each one offers secure encryption protocols so you can rest assured your information won't be compromised while using them either way.
At the end of all this hard work? A comprehensive report detailing exactly why certain sites are better than others based off personal experience plus objective data collected along the way – something not many other review websites provide their readers with nowadays! That's why you know when looking through our recommendations here at [website], you're getting honest opinions backed up by real-world facts rather than empty promises or unfounded claims like some places do…and isn't that what really matters most anyway?
Conclusion
In conclusion, herpes dating apps can be a great way to find companionship and love. They provide an inclusive environment where people with the same condition can connect without fear of judgement or stigma. While there are still improvements that could be made in terms of user experience and features, these platforms offer something unique for those living with herpes who may not feel comfortable using traditional online dating sites. All in all, if you're looking for someone special to share your life with but don't want to risk rejection due to your health status – give one of these apps a try! Who knows? You might just find what you've been searching for!
Q&A
1. How to find good herpes dating apps?
Do some research and read reviews from other users. Check out the features of each app to make sure it meets your needs, such as privacy settings or matchmaking algorithms. Lastly, be sure to look for apps that have a large user base so you can increase your chances of finding someone compatible with you!
2. Are herpes dating apps anonymous?
No, herpes dating apps are not anonymous. They require users to create a profile and provide personal information such as their name, age, location etc. Some sites may also ask for more sensitive data like sexual orientation or health status so it's important to read the privacy policy before signing up.
3. How to make a profile on herpes dating apps?
Creating a profile on herpes dating apps is easy! Start by filling out the basics like your age, location and interests. Then upload some photos of yourself that show off your personality. Finally, write an honest bio about who you are and what kind of relationship you're looking for. That's it – now get swiping!
4. How to use herpes dating apps?
Download the app, create a profile and start browsing for potential matches. Use filters to narrow down your search results and connect with someone who interests you. Message them to get the conversation going!